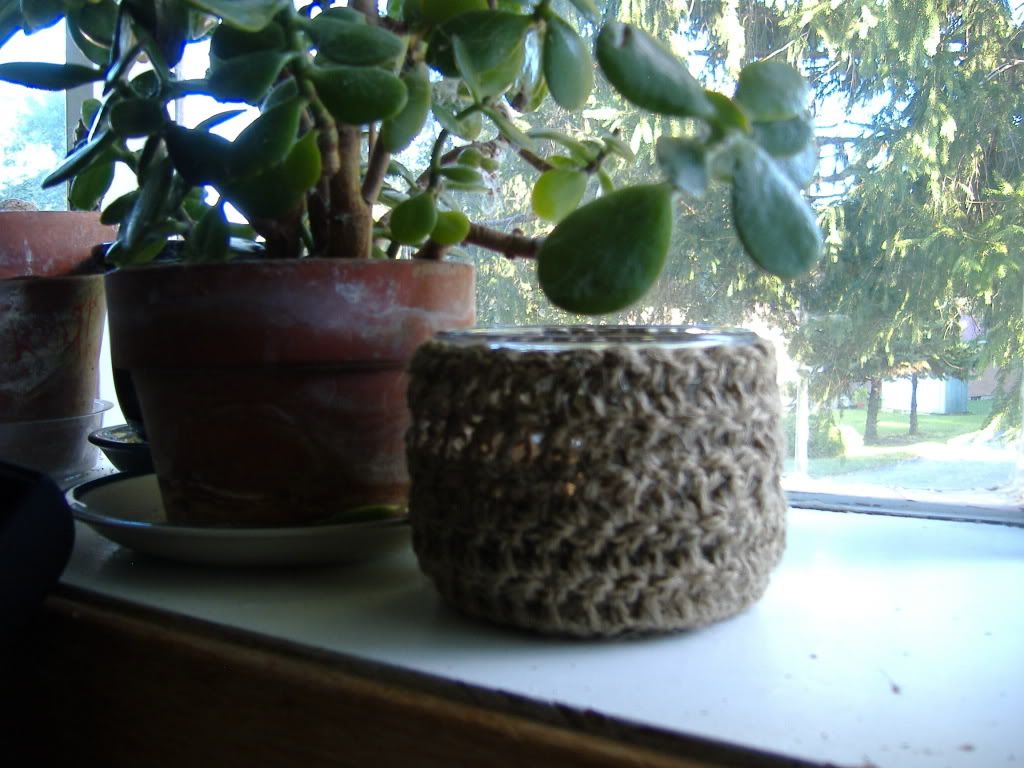 I hated looking at our stupid change jar/piggy bank that used to sit on our coffee table, so I made a cover for it. It is super easy and a quick project that can easily be re-sized to make larger storage baskets and they can even be used without an inner vessel because they support themselves. So many possibilities to add a little natural texture to your decor. Here's how to make one for yourself...
*P.S. I have never made, let alone shared, a crochet pattern in my life so your comments would be appreciated!!
My grandmas would be so proud :)
- any sized jar *optional* (you could also use a tin, vase, ugly flower pot, plastic tub etc)
- crochet hook ( I used a size 4.5US)
- scissors
If you don't know how to crochet, don't panic, this is really easy and here are some great sites for tutorials and youtube videos that helped me to learn.
Abbreviations:
sc = single crochet
dc = double crochet
sl = slip stitch
ch = chain
Starting with the bottom:
Chain 3
Round 1- into the 2nd chain from the hook, do 5 sc, join with a sl into first sc
Round 2 - ch 2 (counts as first dc) 1 dc into
same space
, 2 dc into each sc, join with a sl when reach the beginning
Round 3 - ch 2 (counts as first dc) 1 dc into same space, 2 dc into each dc from previous round
*depending on the size of your jar you could do another round the same way (ch 2, 1 dc into same spot, 2 dc into each dc from previous round then sl into beginning of round)*
for my jar I didn't quite need the height of a dc, so for my 4th round so I did a round of sc (ch 1, sc into same space, 2 sc into each dc, sl into first sc)
I know, I know this sounds complicated for a beginner, but it is really simple and easy to customize when you get the hang of it.
Working up the sides:
*ch 2 (counts as first dc) 1 dc into each of the stitches of the previous round, sl into beginning*. REPEAT from * to * until the sides are as tall as the jar or as tall at you want your basket.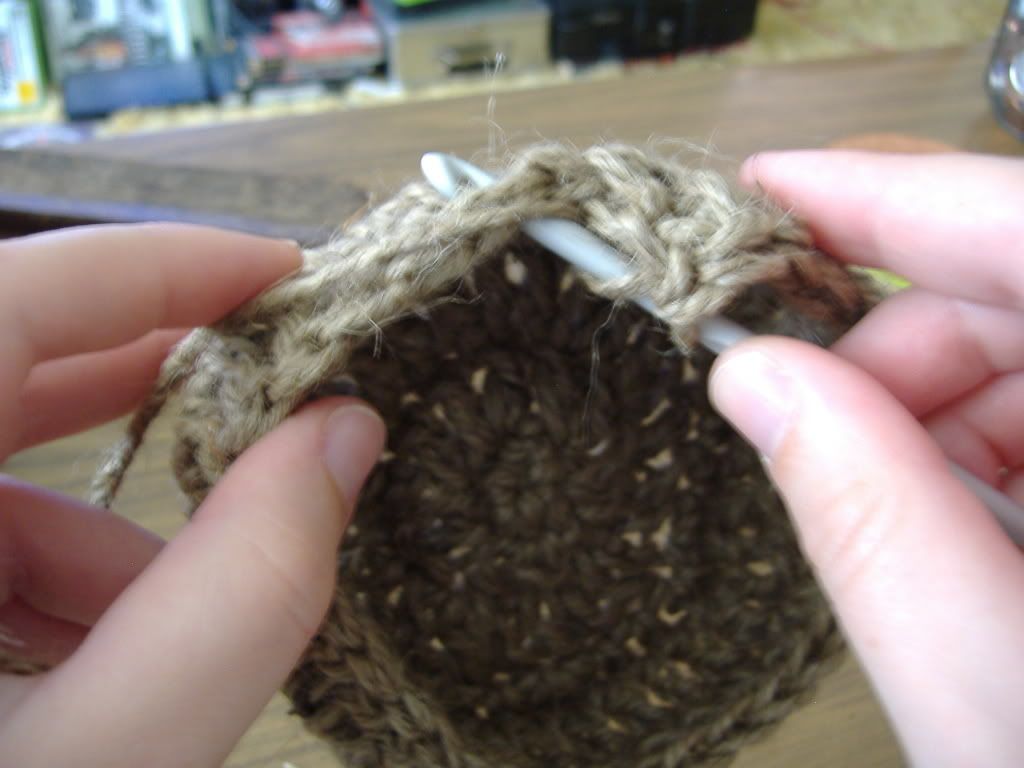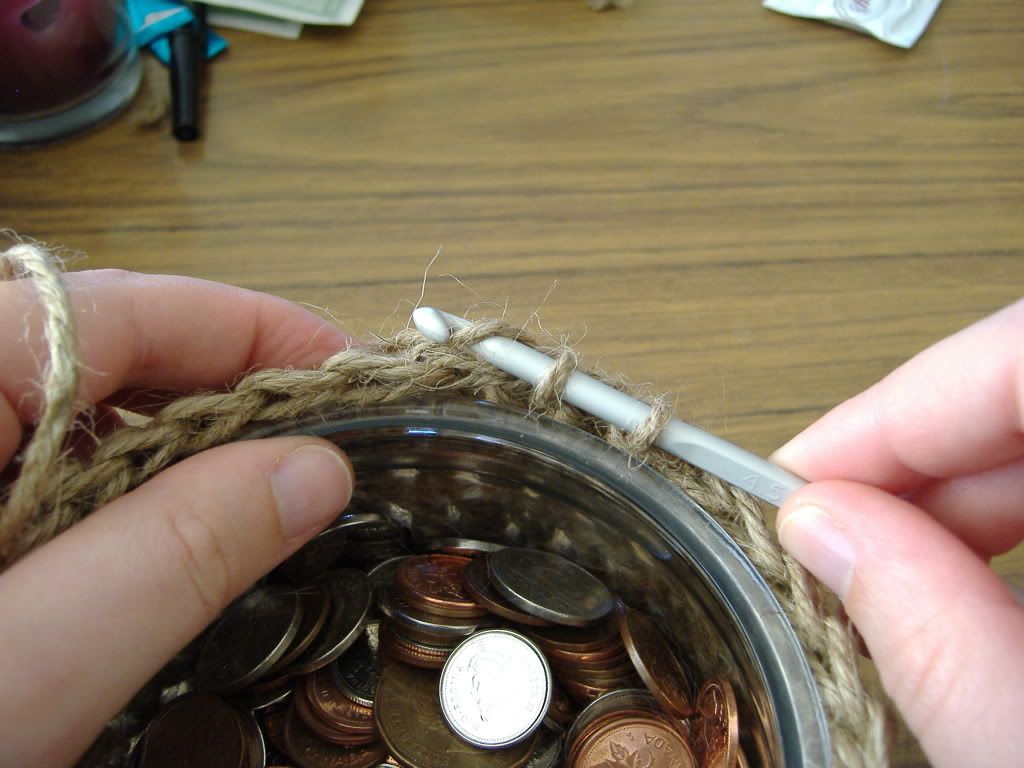 variations:
- if you don't like how large the stitches are (the dc's) you can do sc instead for a tighter knot
- you could also use any yarn or rope or string you like for different colour and texture variations, you could even use strips of fabric for a chunkier look.
I love the way this project turned out, I'm definitely going to make a couple more of different sizes to use all over the house!
P.S. Just a small confession, I made this twine jar cover ages ago and we have moved 2x since, so big surprise, I can't find it. Also, it is no longer a money jar. Moving twice in 1 year is expensive, however I have big plans for it it our bathroom if I can pin point which box it was packed in.
So like I said, I've never written a crochet pattern, did you try it?? How did yours turn out? What homemade storage solutions have you used to hide ugly things in your house? Or maybe you have some advice to share about organizing during a move so that you don't end up losing things in long lost boxes? Tell me about it!