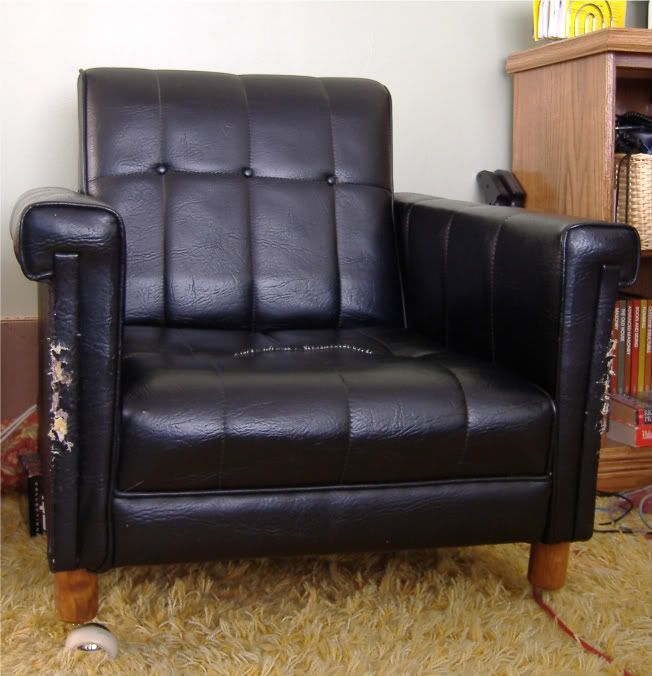 Yes that chair has seen better days, I bought it about 5 years ago while at a garage sale with my mom. I almost paid the $20 asking price, but my mom, a savvy shopper, negotiated it down to $10, what a bargain!! Since we're moving soon, I'm trying to decide which items of furniture to take with us & what to dispose of, but I think this chair has too much potential to just throw out, so I've been keeping an eye out for ideas of what to do with it.
As you can see, the cats use the chair as a secret scratching post. The sneeky buggers do it while watching out for us to see if they'll get in trouble. Bunch of trouble makers they are! There is also a tear in the seat, so right now it has a make-shift slipcover make out of a bed sheet, NOT very attractive! At first I wanted to do a complete re-upholster, but a) I've never re-upholstered ANYTHING and b) I want to be able to easily clean it in the future. I got a book about re-upholstery for Christmas & from what I'm reading, it seems like the bones of the chair are in pretty good shape, nothing is loose fitting & the foam on the back & arms is still cushie. So far, here are the inspiration chairs I've found that I'd like to try & re-create:
I love the comfy cozy look of the above club chair & and how it has separate cushions for the back & seat. I was thinking, right now the chair I have is all 1 piece, but I could detach the seat cushion & make a slip cover to cover the back, the sides, arms, & the bare seat. Then I'd get a new piece of foam (have to do some research on what kind of foam is best) & then make a zippered slip cover, maybe even with pipping detail for a new seat cushion.
Because we have both a dark cat & a light cat, I want a colour that could camouflage some of the hair, something similar to the light gray in the above photo. Also, I think gray would look great with any type of future furniture or decor we end up with. As for type of fabric, I'm thinking maybe a wool or wool blend for durability.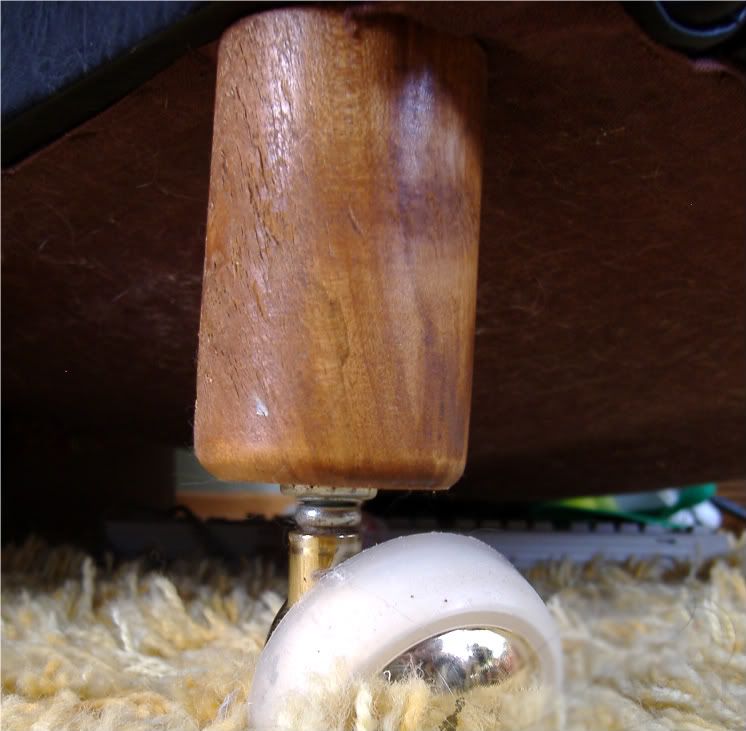 Right now, the legs look like the above photo, well that's not entirely true. One leg looks like that, the other front leg is missing its caster (it broke) & the two back legs are the same wood, but without the casters. I'm thinking I like the idea of 2 legs being solid & 2 being casters. I found these
casters
on the Ikea website for $14/pack of 2:
Now I'm sure I won't be able to actually undertake the re-upholster/slip cover project until I have a bit of a break from school, but knowing me, I'll probably change my mind a few times before settling on a final vision. Plus I want to look around & price fabrics & foam, because I'm cheap :)
I'd really like some input & advice! Have YOU ever made slipcovers or taken on a furniture related project, do you have a tip or 2?